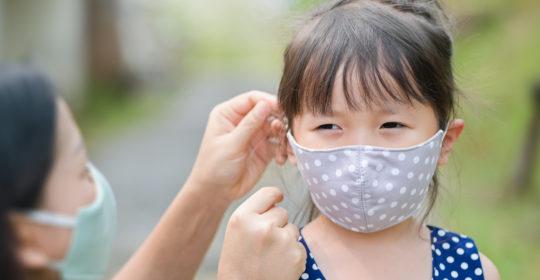 What is Multi-system Inflammatory Syndrome in Children (MIS-C)?
MIS-C is a recently defined, rare (emphasis on rare), inflammatory disease that has been linked to COVID-19 infection in children. The CDC currently defines MIS-C by the following criteria:
21 years old or younger

Clinically severe illness requiring hospitalization with multi-system involvement (ie. impacts 2 or more organ systems like the heart, lungs, liver, GI tract, etc.)

Laboratory evidence of inflammation

Positive current or recent Coronavirus infection or exposure within the past 4 weeks.

Must have ruled out all other possibilities
This disease is not subtle. In layman's terms this boils down to a very sick child with high fever and recent exposure or infection with COVID-19.  The most common symptoms reported to date are; fever, belly pain, rash, inflammation of the lips, eyelids, and/or tongue, and irritability.  It has been affecting school-aged children and teens more than younger children.
Is this the same as Kawasaki Disease (KD)? 
(If you've never heard of KD, you can skip this section!)
In short, no, this is not the same as KD (or at least that we don't think so for now). However, they are both extreme inflammatory diseases in children so there are a lot of parallels and overlap in symptoms. They are similar enough that many of the MIS-C cases are being treated with a KD regimen and responding well. 
How worried should I be?
You should be informed, but not worried. 
Case rates and death rates related to COVID-19 in children remain much, much lower than adults in the United States and across the world.  MIS-C is a rare complication of COVID-19 in these affected children. There is very limited data available about outcomes and risk factors for MIS-C.  However, early studies from Italy show that most kids, even those that are very sick with the disease, recover.  
Remember, many viruses cause fever and rash or abdominal pain. If your child develops these symptoms do not panic.  It is still far more likely that these are from a common virus rather than MIS-C. 
If you are concerned, call us at 301-279-6750 so that we can discuss and help direct you.  Remember, there is a doctor on-call 24/7, 365.  If your child is lethargic, breathing hard/heavy, unable to drink, or if you are seriously worried, head directly to the closest emergency room. 
When will we know more?
As with everything COVID-19 related, MIS-C is new and there is little data/information available at this time.  Over the coming weeks, as we compile more data, we are likely to have more information about cause, treatment, and risk factors.  We will post any relevant new information as it becomes available. Until then, please get your information from reliable sources and avoid lay media or social media for your facts! 
Here are a few good sources for more information: 
https://emergency.cdc.gov/han/2020/han00432.asp
https://www.healthychildren.org/English/health-issues/conditions/chest-lungs/Pages/covid_inflammatory_condition.aspx
https://www.who.int/news-room/commentaries/detail/multisystem-inflammatory-syndrome-in-children-and-adolescents-with-covid-19