Flu Clinic 2023-2024 Season
Flu Vaccine Self-Scheduling Guide
We have implemented a self-scheduling platform. Please click the link above to schedule your appointment. You will need to schedule an appointment for each person getting vaccinated. We have plenty of Flu Vaccine for the community and ample opportunity to get vaccinated in our office. 
If you have a question or need assistance scheduling, please email fluclinic@potomacpediatrics.com. We strive to respond to all request same-day. However, there are intermittently influxes of high volume request, we ask that you please allow our team 24 hours to respond to your email before calling or sending a second inquiry. Sending multiple request within that timeframe will only cause further delays in our ability to respond to you and other patients.
We highly recommend that all patients and household members get vaccinated. To ensure we can meet the needs of our patients all patients and family members are required to have an appointment to receive the flu vaccine. Walk-ins and add-ons will not be accommodated. Due to the level of resources, time, and effort to provide safe and efficient Flu Clinic, appointments that are cancelled with less than 48 hours notice or no showed will be assessed a $15 missed appointment fee per scheduled patient.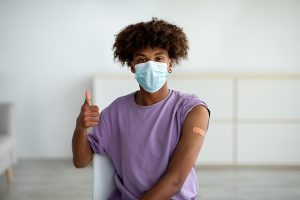 Injectable Flu: In Stock- GSK Quadrivalent 
FluMist: Limited Doses in Stock
Flu shots will be offered to all patients during scheduled appointments (check-ups, med checks, sick visits, etc). Any accompanying parent or sibling will have an opportunity to get vaccinated at this appointment if advance notice is provided.
We ask that you please email us at fluclinic@potomacpediatrics.com to request a flu vaccine appointment at the time of your child's scheduled appointment.
When scheduling and checking in please notify your greeter that you scheduled a flu shot as this will help speed up the vaccination process for your family.
Patients: No copays are due when receiving the flu vaccine. We will bill your child's flu shot to their active insurance company. If your child does not have active insurance, payment will be due at the time of service. If there is any patient responsibility due after your claim has processed, your credit card on file will be charged according to our financial policy.
Non-patients:
If you have insurance eligible benefits we will submit a claim on your behalf to your insurance company.

PPO plans and most HMO plans will cover the flu vaccine at 100%
In some uncommon circumstances, HMO plans where a member has a designated PCP, might only be covered for the flu vaccine if administered at their primary care office. Please call Member Services on the back of your insurance card to verify your specific benefit coverage.
Patient responsibility (if any) will be charged to the credit card on file after your claim is processed. No statement will be generated and a credit card must be put on file to cover any potential patient responsibility. This is practice wide policy for all patients and non-patients.

This year, for Flu and COVID vaccines ONLY, we are accepting MOST insurances. We are NOT accepting Medicare or Medicaid.

If you are 65 years or older it is recommended that you receive the Fluzone High Dose vaccine, which contains four times the antigen of a standard-dose influenza vaccine and provides the best chance of protection against the Influenza virus for you. We do NOT carry this vaccine in our office.  We also are no longer able to bill Medicare. If you'd like to get this recommended vaccine and/or utilize your Medicare insurance, please check with your PCP office or local pharmacies.
Submit Insurance: If you are a new patient or have updated insurance, save time at check-in and submit your information online!
Submit Insurance Information Here >>
What if my child has asthma?
We prefer that Asthmatic children who do not have a current Asthma Action Plan or are in need of prescription refills are seen in our office or by their Asthma/Allergy specialist prior to receiving the vaccine. However, you may still bring your child into the flu clinic for their flu shot. These clinics are staffed by our nurses and your child won't be seen by a provider or receive medication refills at this time. If you'd like a one-stop visit contact our office to schedule an appointment with a provider for an asthma action plan and flu shot.
When should we get vaccinated?
Did you know that it takes about two weeks after vaccination for antibodies to develop in the body that protects against Influenza virus infection? It's best to be vaccinated before Influenza begins spreading throughout the community. Infants (6-35 months of age) who are receiving their first flu vaccine, as well as children who are 8 years old and younger and have never received an Influenza vaccine, will need to receive two doses of Flu. These two doses will need to be administered at least one month apart. If your child falls into one of these categories that means it may take 4-weeks before they are fully vaccinated. So why wait? Waiting does not give you increased immunity or increase the likelihood that you will be protected if there is a delayed flu outbreak.
One of the most common excuses we hear is that getting the flu shot gives can give you the flu. This is a myth. You cannot get the flu from the flu vaccine. What you are experiencing is common side effects that will quickly pass in 1-2 days.
These side effects can include:
Soreness, redness, or swelling at the site of injection
Low-grade fever
Aches
What about people that get vaccinated and still get the Flu?
Exposure to the flu vaccine may have occurred prior to vaccination or during the two-week inoculation period.
Viruses that have similar symptoms to flu are circulating throughout the community and are often mistaken for the flu.
Flu vaccines do not cover every strain of Influenza. The vaccines cover four strains of Influenza (Two Type-A Strains, and Two Type B Strains). Researchers and scientists include the strains that they predict will most likely occur within the community. It is still a virus and new strains can emerge prior to the start of or during Flu season that is not included in the vaccine.
Can I get the Flu vaccine and COVID vaccine at the same time?
Yes! If you or your child is due for their  COVID vaccine it can be administered at the same time as your flu vaccine. However, you must utilize the COVID vaccination schedule NOT flu clinic. Under the COVID Vaccination schedule, please select the COVID & Flu vaccine appointment type. If a staff member is scheduling your appointment, please notify them that you'd like both vaccines. COVID vaccines have a specific prepping routine for administration and therefore these can't be administered at our Flu Clinics.
Seasonal updated information on Influenza virus, vaccines, and treatment can be found on the CDC website.