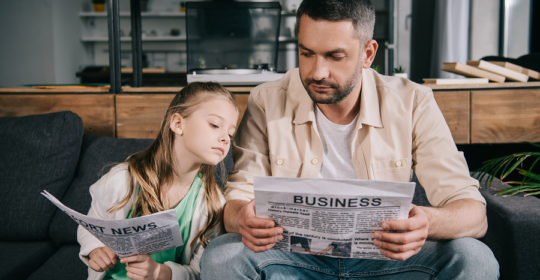 By: Joseph Mechak, MD
Children's health topics have been all over the news over the past few weeks.  We wanted to make sure you were up to speed on some of these recent developments.  If you have questions or concerns related to these topics, do not hesitate to reach out to your doctor or the nurse triage line.
Topic #1 – Screen time: USA Today – Too Much Screen Time Changes Brain
We have known and preached for some time that too much screen time, especially during toddlerhood, can have a negative impact on a child's health and development. Studies have linked excessive screen time to obesity, lower academic performance, behavior problems, sleep problems, language delays, impaired social development, and more. This week a group from Cincinnati Children's Hospital published a study that took our knowledge on this topic one step further. These doctors performed MRIs and other functional testing on children with varying screen time exposure. The MRIs showed a measurable underdevelopment in speech and language centers in the brain in children watching more than the recommended amount of screen time per day.  This study is the first to show actual structural changes in the brain linked to excessive screen time.
We want to use this as an opportunity to remind you of the American Academy of Pediatrics (AAP) recommendations on screen time.  The full recommendations can be found in this AAP press release, but a few highlights are as follows:
For more information and recommendations from the AAP, check out these websites:
Topic #2 – Risks of inclined Sleepers: Washington Post – Stop using all inclined sleepers
In April 2019, a study linked 32 infant deaths to the Fisher Price Rock n' Play inclined sleeper. In response, the AAP and Consumer Product Safety Commission (CPSC)  issued a warning that the Fisher-Price Rock n' Play was unsafe and should not be used by infants of any age. Fisher Price later recalled the product. Three weeks ago the CPSC expanded this warning to include all incline sleepers.  This comes after a new study linked 73 infants deaths to various types of incline sleepers. The CPSC now recommends against the use of any inclined sleeper that has greater than a 10% incline. The AAP continues to say that no inclined sleeper is a safe sleep surface, and recommends that babies only sleep on a firm flat surface.
For additional information and recommendations, see our post from April 2019 and this release from the AAP:
Topic #3 – Heavy Metals in baby food: CBS News – Toxic Metals Found in Baby Food
A recent report published by the non-profit Healthy Babies, Bright futures found trace amounts of 4 different heavy metals in a large percentage of baby foods in the United States. This expands on a similar findings in August 2018 that found heavy metals in select baby foods, especially rice based products.  While concerning, it is important to know that these heavy metals are naturally occurring in some foods and were found in only very small amounts in the baby food.  
It should also be noted that there is some controversy around this report.  Several of the companies involved are questioning the research methods used by the authors and point out that several of the studies cited in the report on non-peer reviewed studies.  The peer review process helps ensure quality and accuracy of published studies.
We advise you not to panic about these findings.  For further information and recommendations, take a look at our blog from September 2018.  The Healthy Babies, Bright Futures report also has information for parents on page 10, and some suggestions are summarized in the table below. If you have concerns or would like to discuss further, please speak with your doctor.
Topic #4 – Ranitidine Cancer Risk – FDA statement on carcinogens in ranitidine
Ranitidine (Zantac) is a heartburn medication that is occasionally use in children and babies with Gastroesophageal Reflux Disease. In September 2019, the FDA announced that they found low levels of a carcinogen called N-nitrosodimethylamine (NDMA) in several formulations of this medications. The concentrations of this carcinogen were low, but above what the FDA considers acceptable. In response to these findings, several of the drug manufacturers, large pharmacy chains, and even the Canadian and French governments have issued a recall on all Ranitidine products.  The FDA has not taken or recommended such drastic action. They have made the following statements:
The FDA continues to investigate this issue and provides regular updates on the FDA website.  The American Academy of Pediatrics has not yet released a statement on this issue.  If your child is taking Ranitidine and you have questions, concerns, or would like to discuss this topic further we encourage you to make an appointment with your doctor.