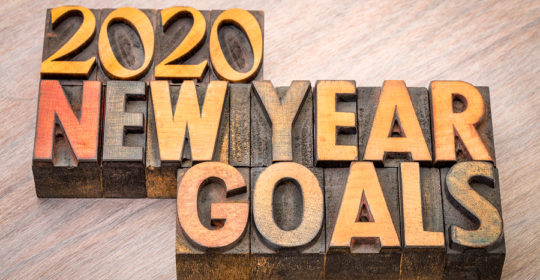 By: Dr. Joseph Mechak
The new year is a great time to reflect on your family's health and happiness.  Take some time to appreciate the positives from 2019 and identify areas for improvement and growth in 2020.  After this introspection, make some goals and resolutions to make this year the best yet!
Now, resolutions are great… but only if you keep them.  Most resolutions fizzle out or end up on the back burner after a few months. We wanted to provide a few tips to help ensure your family's resolutions stick this year.
Decide to make a change

– You can only keep a resolution if you make one. Spend some time self-reflecting and being honest with yourself. Think of areas where there is room for growth or  changes that will enrich your life. Once you find it, commit to making the change. The first step is the hardest!

 If you need some help getting started, check out these recommendations from the AAP.
Be realistic

– Ambitious goals are good… unattainable goals are not.  This applies to both the scope and the number of your resolutions.  Pick a small number of realistic goals to start.  You can always change, expand, or add resolutions as you check others off! 
Be specific and objective

– The more concrete and narrowly focused the resolution the better. 'I want to exercise more' is hard to track and measure your success. 'I want to exercise 45 minutes per day, at least 4 days per week' is something you can track and monitor on a daily or weekly basis. 
Accountability

–  Be honest and keep yourself accountable. The more accountability, the more successful you will be. Here are a few ways to do this: 

Write them down-  Putting pen to paper often makes things real.  Put them in a place you will see them every day as a quick visual reminder of your commitment to yourself.

Make a goal chart – Track you progress on a daily or weekly basis. There are plenty of great apps for goal tracking or you can use a good, old-fashioned paper chart. 

Set check-in dates – Set regular dates to evaluate your progress. Put them on a calendar as a motivator! 

Work as a family or with a friend – Keep each other on track, push each other, support each other! 
Ask for help

– If you feel yourself slipping or regressing, don't be afraid to ask for help.  Friends, family, or your doctors at Potomac Pediatrics can be great resources! 
Reward success –

Change is hard. Reward yourself when you accomplish goals or stick to your plan.  Set specific milestones or dates to act as a motivators.  Now, rewards do not NOT mean a cheat or binge day. (ie. a box of donuts is not a good reward for limiting sweets!) Find other ways to treat yourself that do not open the door to future failures!
Don't be afraid to do more!

Don't let success stop you!  If you accomplish a goal, pick a new one and keep going!
We hope these tips help you keep your resolutions and make 2020 the best year yet. If you feel like you need help establishing healthier habits, keep an eye out for information on our new Healthy Habits Clinic – starting in early 2020!  As always, if you have questions or concerns please contact us at the office!